KOREAN FOOD STORIES
BERLIN
Explore Healthy Korean Food
ESSEN IM RESTAURANT
&
ZUM MITNEHMEN (online bestellen)
Öffnungszeiten:
Mittags:
Mo – Fr 11:30 – 16:00
Abends *:
Fr & Sa 18:30 – 22:00
* bitte mit Tischreservierung
NEW: LOYALTY CARD
start collecting bibimbap points and get a bibimbap for free*
OUR NEW AWNING
RAIN or SHINE, sit outside and enjoy best Korean food.
Korean Food Stories is a small Korean restaurant in the heart of Prenzlauer Berg. We serve fresh and healthy Korean food for every day. Our specialty is bibimbap served in the traditional stone pot (dolsot)
Looking for some damn good kimchi? Congratulations the search is over. We produce excellent kimchi in small batches to ensure 100% flavor! Also check out your selection of homemade sauces and chili oils. 
Wanna cook some delicious Korean food at home? Great we have all the Korean ingredients that you need in order to have best Korean food at home. Check out our Korean online supermarket.
안녕하세요!
An-nyeong-ha-se-yo!
Discovering the Best Healthy Korean Food at Korean Food Stories in Prenzlauer Berg
Korean cuisine is known for its bold and flavorful dishes, but did you know that it also offers a variety of healthy options? If you're looking to enjoy a delicious and nutritious meal, a visit to Korean Food Stories in Prenzlauer Berg, Berlin is a must.
TRADITIONAL KOREAN CUISINE WITH A MODERN TWIST
Located in the trendy neighborhood of Prenzlauer Berg, Korean Food Stories is a hidden gem among the best Korean restaurants in Berlin. The menu features a variety of traditional and modern Korean dishes, all made with fresh, organic and healthy ingredients.
CHRISPY HOT N' SIZZELING DOLSOT BIBIMBAP
One of the restaurant's specialties is their bibimbap, a classic Korean dish that is the perfect balance of flavors and nutrition. Bibimbap is a bowl of rice topped with a variety of vegetables, meat or egg, and gochujang sauce. The dish is not only tasty, but it's also a great way to get your daily dose of vitamins and minerals.The heat from the pot helps to cook the egg and caramelize the rice, creating a crispy texture and a unique flavor. 
INGREDIENTS ARE KEY AND ORGANIC IS KING
The restaurant's commitment to healthy and organic ingredients is evident in every dish, and the flavors are well balanced and delicious. The team behind Korean Food Stories takes great pride in their culinary heritage and they want to share it with the people of Berlin.
. 
IT'S WORTH IT
In conclusion, if you're looking for a delicious and nutritious meal that's packed with flavor and texture, be sure to try bibimbap at one of Prenzlauer Berg's best Korean restaurants. Whether you're a meat lover, a vegetarian, or somewhere in between, you're sure to find a version of bibimbap that you'll love. So, head over to Korean Food Stories in Prenzlauer Berg and give it a try, it's worth it!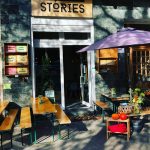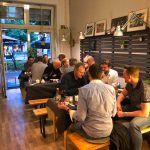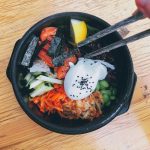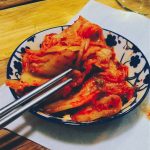 Lunch:
Montag - Freitag
11:30 – 16:00
Dinner*:
Freitag & Samstag
18:00 – 22:00
WE RECOMMEND
TO BOOK A TABLE
KOREAN FOOD STORIES 
Prenzlauer Allee 217
10405 Berlin
Germany
+49 (0)30 54630766
 info(at)koreanfoodstories.com
Bitte rufen Sie uns für Gruppenbuchungen ab 9 Personen an
Nur 10 Min. vom Alexanderplatz entfernt
Tram Haltestelle: M2 Marienburger Str.
Wir akzeptieren Kreditkarten!
Our restaurant is located in the heart of Prenzlauer Berg in Kollwitz Kiez. We opened the restaurant first in November 2014. The place can fit about 26 people inside (+ another 12 guests in our café next door) and about 40 people outside on our sunny terrace. The concept is to serve healthy Korean Food for every day, in a relaxed atmosphere. Our bibimbap is inspired by the traditional bibimbap that you will find in Korea. Since Berlin is not quite Seoul we add a modern twist to our dishes and focus on regional and seasonal produce as much as possible. All our sauces and kimchis are homemade without any preservatives or artificial flavours. Our goal is it to give you the best Korean restaurant experience in Berlin.