YOUR KOREAN RESTAURANT IN BERLIN
Firstly, we don't just make Korean food at our restaurant – we tell stories. Secondly, Korean Food Stories was built on the belief that food should be special, and we carry that belief into everything we do. In other words, it is our goal to serve the best Korean Food in Berlin! However, enjoy our finest selection of dolsot bibimbap, bulgogis, homemade kimchi and Korean banchans.
Korean Food Stories is one of the leading Korean Restaurants in Berlin Prenzlauer Berg since 2014!
EAT IN & TAKE AWAY
Mo - Fr. // 12:00 - 15:00
Do & Fr. // 19:00 - 22:00
NEW: OUR KIMCHI ONLINE SHOP IS LIVE
안녕하세요!

An-nyeong-ha-se-yo!
Welcome to Korean Food Stories
Homemade and healthy food, has become very important today. Furthermore, food should not only taste good it should be hearty and fresh too. But above all food should be real. In addition, the origin of the ingredients is also very important. Exactly that is often difficult when you go out to eat.
MODERN TWIST
I love the traditional Korean cuisine at our restaurant. But I'm also aware of food trends and healthy and clean eating. Which means I'm adding a modern twist on Korean cuisine and make it more suitable for every day. That's why the menu offers vegetarian, meat and fish dishes.
FAMILY COOKING
At KOREAN FOOD STORIES, I still cook myself. For years, I learned from my parents how to cook good and healthy Korean food.
I'm happy to share my family's cooking with you. I love the diversity of flavors of my home country Korea. Whether it's sauces, pickled vegetables and of course fermented foods like kimchi. I rely only on my family's recipes. That's why we use only the best ingredients at KOREAN FOOD STORIES and serve our bibimbap in the hot stone bowl. 
BEST EXPERIENCE
The result is a very special taste experience that can be enjoyed with a clear conscience. That's what makes KOREAN FOOD STORIES so special. Simple, honest cuisine, with the best ingredients and products. Pay us a visit for hearty Korean feel-good cuisine with a smile.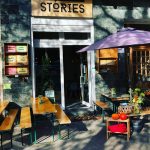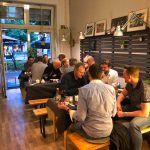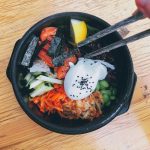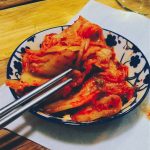 The menu is a our interpretation of Korean regional cuisines, and the menu changes with the seasons. Be sure to ask about the weekly special!
Our menu is an interpretation of Korean regional cuisines. And the ingredients of our Korean dishes change with the seasons. Be sure to ask about the weekly special! In short, we created some dishes you will only find at our restaurant.
Celebrate with your friends, family and colleagues a Korean privat dinner party.
Book our restaurant space for your next event.
Lunch:

Monday – Friday
12:00 – 15:00
Dinner:
Thursday & Friday
19:00 -22:00
WE RECOMMEND TO BOOK A TABLE
Please call us for group bookings 9 or more
Only 10 Min away from Alexanderplatz
Tram stop: M2 Marienburger Str.
We accept credit cards!
ABOUT KOREAN FOOD STORIES
Korean Food Stories is located in the heart of Prenzlauer Berg in Kollwitz Kiez. The restaurant opened first in November 2014. The restaurant can fit about 26 people inside (+ another 12 guests in our café next door)  and about 40 people outside on our sunny terrace. The concept is to serve healthy Korean Food for every day, in a relaxed atmosphere. Our bibimbap is inspired by the traditional bibimbap that you will find in Korea. Since Berlin is not quite Seoul we add a modern twist to our dishes and focus on regional and seasonal produce as much as possible. All our sauces and kimchis are homemade without any preservatives or artificial flavours. Our goal is it to give you the best Korean restaurant experience in Berlin.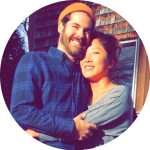 LOCATION OF THE RESTAURANT